As I thought about what I would write for this post, most everything that came to mind seemed repetitive to the previous years I've hosted this link up. At first I thought maybe that was boring. Same thing, year after year. Then I thought….it's kind of special, isn't it, to be blessed with the most important things in your life for long periods of time?
I'm thankful for so many things. Little things. Penny, sunshine, rum, a cozy house… But there's two big things that stick out at the top of my Thankful For list.
First is my sweet, handsome, weird fiance. (We hate that word. Fiaaaanceee.) We have been on such an adventure together. I can't wait to start the next chapter of our lives. I feel so grateful to have found some one so fun, supportive, and frickin funny as hell. I wouldn't be where I am today if it wasn't for him. I know I'm lucky to have found someone like him and I never want to take that for granted.
Secondly, I can't go very long without mentioning how thankful I am for my business and you guys for supporting it. I never would've dreamed the last year up for myself. It's been pretty much the most incredible year of my life. I feel so fortunate to be able to do something I love. And I know it wouldn't be possible without those of you who are helping me spread the word. Thank you for sharing in on this adventure with me!
Have a Happy Thanksgiving! I won't be around tomorrow, some of my best friends are in town to celebrate the holiday. But stay tuned for the JAA Black Friday deal in a couple days!
And don't forget to link up your Thankful For post below so we can help spread gratitude this season!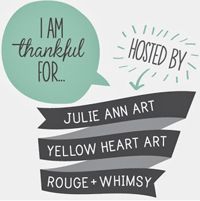 xoxo JA