I recently added a
Thanksgiving card
to my
shop
but I decided to offer a free printable version of this card to
you
as a thank you
.
You can print this card out
here
and remind a loved one how thankful you are for them. Of course, the design is for personal use only, please don't distribute or sell it.
On the topic of giving thanks, I have an exciting announcement today!! I am working together with friends Kristan, of
AdelynSTONE
, and Ashley, of
AfterNineToFive
, and hosting a
Give Thanks Link-Up Party
on November 17th. Mark your calendars! We are coming together to promote recognizing the greatness in what you have, and being thankful for it.
For months now I have really become appreciative of what I have in life and have been looking forward to writing a "What I'm Thankful For" Thanksgiving post. Then I thought, why not share this message across the blog world? I know that it's easy to get caught up in little things, forgetting what's right in front of you and taking it for granted (I'm guilty of this). This Thanksgiving season, let's spread the love where it's due.
200×200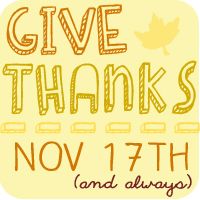 150×150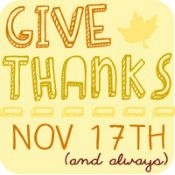 Get your blog posts ready to share at the Give Thanks Link-Up Party on Thursday, November 17th! This is a great way to get your blog posts seen! And in the mean time, you can help spread the word by adding this button to your blog. Looking forward to learning what you are thankful for this season! xo JA